Over the years, Florida weather can take a toll on your patio, lanai or pool screen enclosure – also referred to as a pool cage. Screened areas that had poor quality screens used when constructing them can also add to the problem. We offer pool screen repair and full re-screens using the highest quality Phifer mesh screens to ensure you get the longest life possible from your screens.
CURRENT SPECIAL – Free door kits and bug sweeps with any full rescreen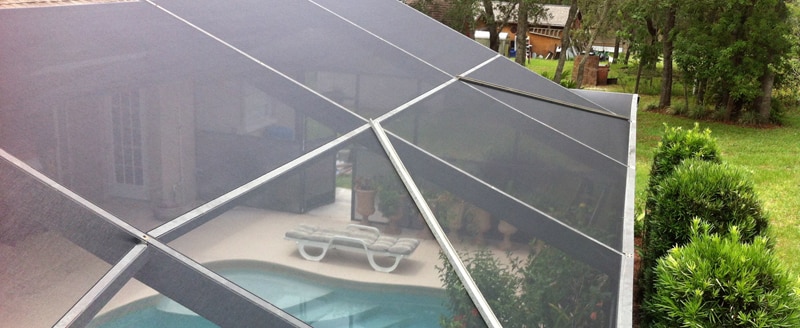 Should You Repair or Rescreen?
Often times we'll be contacted by customers who have a rip in a single screen panel for repair. If there wasn't a specific instance that caused the damage (such as a pet tearing it) and the rip is simply from standard time wear (screens turning silver and fraying), we usually recommend that you have us inspect your screens to see if you'd be better off with a full rescreen.
While we're happy to come out and replace a single panel, if the screens are tearing from standard time wear, you may end up having to call us out repeatedly to fix the screens one by one as they break down. This ends up being more expensive over time. We can inspect your screens and give you our professional opinion as to whether repair or re-screening is the most cost effective option and we'll perform whichever service you decide.
Our Materials
The type of screening used can have a huge effect on the lifetime of your screens. We use only high quality Phifer mesh screening products which are proudly made in the USA. Phifer offers several different levels of screening including:
Phifer 18/14 standard screening
Phifer 20/20 standard screening
Phifer Bettervue screening which is made from fiberglass 20/20 mesh that offers increased visibility while also offering high bug protection (including no-see-ums)
Phifer Suncreen for privacy (you can see out, but people can't see in) and heat reduction which comes in charcoal, silver gray and bronze
Phifer Glas-Shield which is a vinyl laminated fiber glass screen (also known as Florida Glass)
Phifer Tuff Screen which is made from heavy-duty, vinyl-coated polyester (which offers increased protection if your screen is often hit by golf balls) and some people find it to be a great "pet screen"
Phifer Pet Screen which is seven times stronger than your traditional screening products. The Pet Screen is often a great choice for people who live on golf courses as well to prevent rips and tears caused by poor golf swings
What do the 18/14 and 20/20 numbers refer to? This refers to the screen mesh density. 18/14 means that every square inch is 18 little squares wide by 14 little squares tall. 20/20 screens are 20 little squares wide by 20 little squares tall per square inch.
How long does pool screening last?
This is largely dependent on the materials used – both the quality of the screen and the type of screening. Phifer screening can have double the life span of the average screening, lasting up to 8 years. Phifer Glas-Shield can last up to 10-12 years. Beware of cheaply produced screens manufactured in China – also referred to as Artisan Wire. They might seem like a deal, but their average lifespan is only 3-4 years.
Click here or call us at (352) 261-0315 to schedule your free, no obligation estimate