Adding sliding screen doors to your garage is a perfect way to "open up" your garage and take advantage of breezes during nice weather. They also allow natural light into your garage and give you the ability to spend time in your garage without allowing bugs, snakes or rodents in.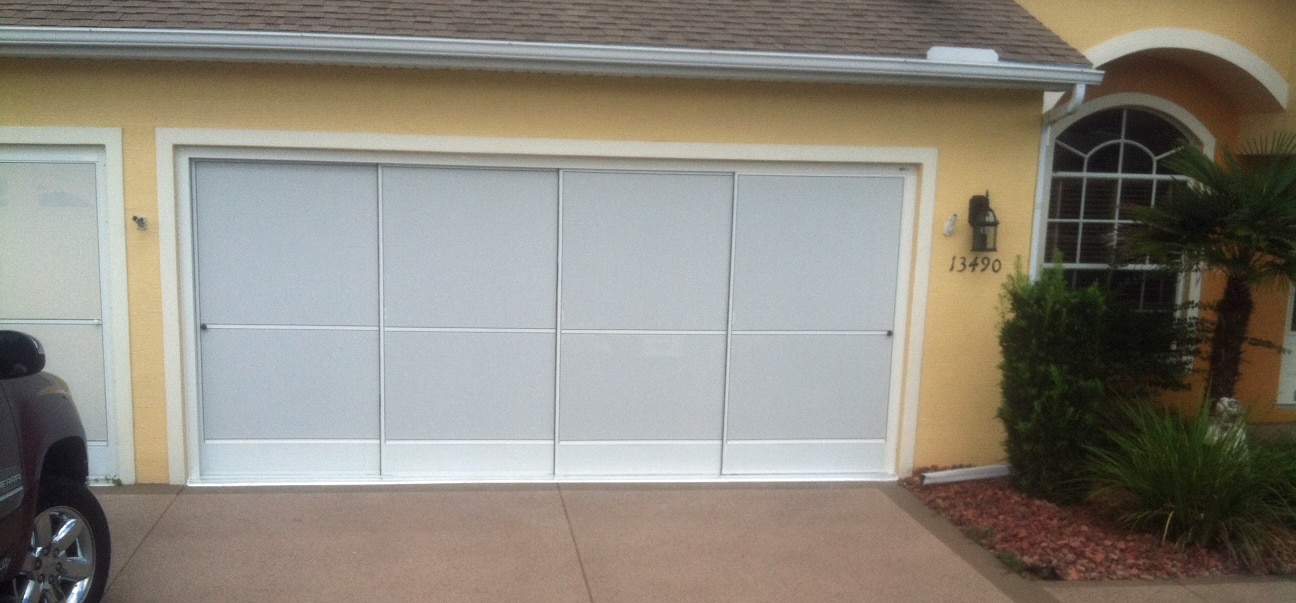 Garage sliding screen doors are perfect for anyone who uses their garage as an additional "outside room", exercise room or workshop.
We can install sliding garage doors that you've already purchased or we can both purchase and install them for you. The choice is yours. Your sliding garage door screens can feature standard screening or feature a "screen with a scene" of your choice.
Do Sliding Garage Screen Doors Affect the Use of My Overhead Garage Door?
The answer is no, installing garage screen doors will not impede or affect the use of your standard overhead garage door. Garage screen doors are installed on the exterior jambs of the garage allowing your overhead garage door to function normally.
How Do I Know Which Size Garage Screen Door to Buy?
If you plan to purchase your own sliding garage screen doors, we can give you the measurements / size of the screen you need to purchase when we come out to give you the free quote for installation. Single car garages are typically 9′ x 7′ while double car garages are typically 16′ x 7′.
What are the Options for My Sliding Garage Screen Door?
Sliding garage screen doors have several different options you should consider before purchasing. The frames typically come in white, ivory and bronze. Kickplates for garage screen enclosures (the hard plating on the bottom) can come in heights or 6, 12 and 18 inches.
Screen choices vary. If we're providing the screens, we offer multiple types of Phifer screening including Phifer 14/18 Standard mesh, Phifer 20/20 mesh, Phifer Bettervue, Phifer Sunscreen, Phifer Tuff Screen, Phifer Glas-Shield (also known as Florida glass).
Additionally, you could choose to add a "scene" to your screen as well. We're happy to go over your options with you and give you a free estimate.
Click here or call us at (352) 261-0315 to schedule your free, no obligation estimate