If you're looking for increased privacy in your patio, lanai or pool area, privacy screens are a great way to get it. We offer two options for privacy screens and privacy screen murals.
The first is Phifer Bettervue screening which is a standard mesh screen that allows you to see out, but heavily decreases the ability for people to see in and looks like standard screening both inside and out.
The second option – screens with scenes – allows you to prevent others from seeing inside your screened area with designs on the screens to "give you a view".
CURRENT SPECIAL – Free door kits and bug sweeps with any full privacy or "screens with scenes" screening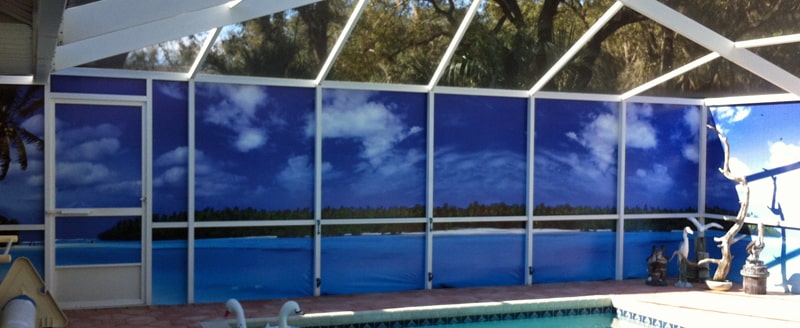 What is a "Screen with a Scene"?
Screens with a scene allow you to add a full or partial privacy screen that also contains a mural to give you "a view" so to speak. We offer two types of screens with scenes; Perfectly Private (full privacy) and Partially Private (partial privacy). These scenic screens extremely durable, fade resistant, laminated (to ensure the longest lifespan possible) and come with a two year guarantee.
The Perfectly Private screens completely block viewing the inside of your screen enclosure from the outside. The Perfectly Private screens are made of non-porous vinyl, are extremely durable and offer complete privacy while also blocking out harmful UV rays.
The Partially Private screens are made of porous mesh, offer you 75% more privacy than standard mesh screening and are extremely durable while allowing both light and air to pass through.
The "Scenes"
We offer almost 100 different "scenes" for larger views to choose from including tropical scenes, nature scenes, garden scenes and sports and leisure scenes. Whatever your idea of a gorgeous privacy screen is, we likely have a scenic screen that will match it. We can provide an in-home consultation to show you all of the available screening options to help you find one that you love.
What Can You Screen with a Scene?
Screens with Scenes are not limited to pool enclosures. We also install:
Outdoor patio privacy screens
Lanai privacy screens
Retractable and standard screen door privacy screens
Sliding garage door privacy screens
Chair rail inserts with a scene
Screen porch privacy screens
And more.
Depending on the size of the screen you wish to scene, there can be thousands of scene options for you to choose from to give your swimming pool privacy.
Click here or call us at (352) 261-0315 to schedule your free, no obligation estimate