"Florida glass" is the nickname that was given to screening that has been laminated with vinyl to create something that mimics glass, but is actually a screen. Phifer's "Florida glass" is called Phifer Glas-Shield.
CURRENT SPECIAL – Free door kits and bug sweeps with any full rescreen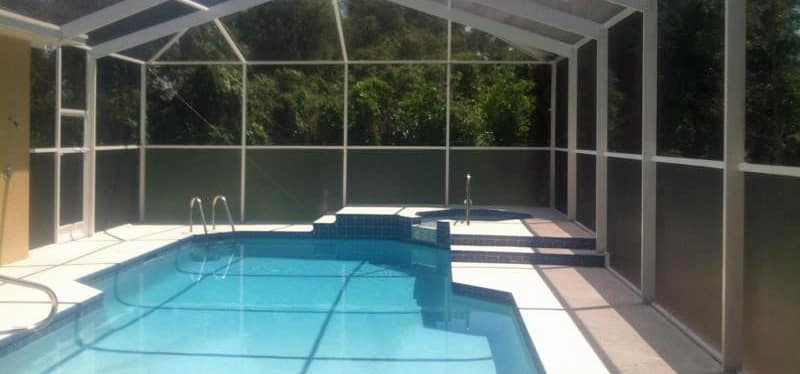 Glas-Shield is an 18/14 fiberglass mesh that has been vinyl-laminated. Florida glass is typically installed in the lower panels of the enclosure (as pictured above) to prevent water, dirt and debris from getting into your lanai, screen porch or pool enclosure. This is especially useful if you live in an area that tends to flood slightly during rain.
Glas-Shield also serves as a privacy screen when used as the top to bottom wall screening. However, we wouldn't typically recommend using Florida glass to screen in an entire porch for privacy purposes. Screening in an area with Florida glass can sometimes be a cheaper alternative to actual privacy screens, but while Florida glass keeps out debris and dirt, it also prevents air flow. Most homeowners would prefer to maintain airflow while making their enclosure private, especially if that enclosure has a roof.
How long does Florida glass pool screening last?
This is heavily dependent on the type of screening you use. Cheaply produced screens may seem like a deal initially, but they'll often need replacement within a few years. The Phifer Glas-Shield fiberglass screening has an average lifespan of 10-12 years with proper care and maintenance. Sometimes they'll last even longer!
If Florida glass is the right option for you needs, we can install it quickly, professionally, and at an affordable price!
Click here or call us at (352) 261-0315 to schedule your free, no obligation estimate